TP-LINK EAP320

AC1200 Wireless Dual Band Gigabit Ceiling Mount Access Point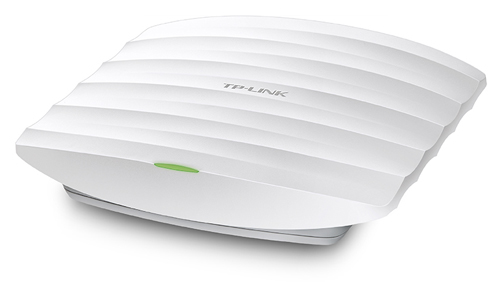 Sorry, this product is no longer available. Please Contact Us for a replacement.
Overview:
Breakthrough Wi-Fi Speeds Ensure a True Business-Class Experience
The combination of next generation 802.11ac Wi-Fi and advanced MIMO and TurboQAM technology allows EAP Series devices to offer an unbeatable Wi-Fi experience.
The EAP330 provides the ultimate Wi-Fi experience, reaching speeds of up to 1.9Gbps, including 600 Mbps on the 2.4GHz band and 1300 Mbps on the 5GHz band.
The EAP320 provides speeds of 300Mbps and 867Mbps on the 2.4GHz and 5GHz bands respectively.
Excellent Wi-Fi Performance for Business Environments
Broadcom enterprise-class chipsets offers outstanding enterprise-grade performance, resulting in longer spans of stable operation and larger client capacities. The dedicated high-power amplifier, professional antenna, and well-designed RF shield ensure excellent wireless performance. Link aggregation combines two wired connections to double throughput and provide a redundant link for Internet access.*
Advanced RF Technologies Guarantee Optimal Performance


Airtime Fairness
Airtime Fairness improves total Wi-Fi throughput by limiting access time for low speed devices.

Band Steering
Band Steering pushes dual-band devices to the wider and faster 5GHz band, improving overall network performance, especially in high client density environments.

Beamforming Technology
Beamforming Technology achieves superior Wi-Fi bandwidth utilization and increases Wi-Fi range by creating efficient, highly targeted Wi-Fi connections
Business-Class Indoor Wi-Fi Solution
Auranet access points provide a business-class wireless network solution that is exible, manageable, secure, and easy-to-deploy. The free EAP Controller software allows users to manage hundreds of EAPs at multiple sites from a single location. The ability to control, adjust, and visualize the entire network from any connected PC makes centralized business Wi-Fi management more efcient than ever before. Auranet EAPs also feature captive portal and advanced RF management functions, which make them ideal for demanding, high-trafc environments, such as campuses, hotels, malls, and ofces.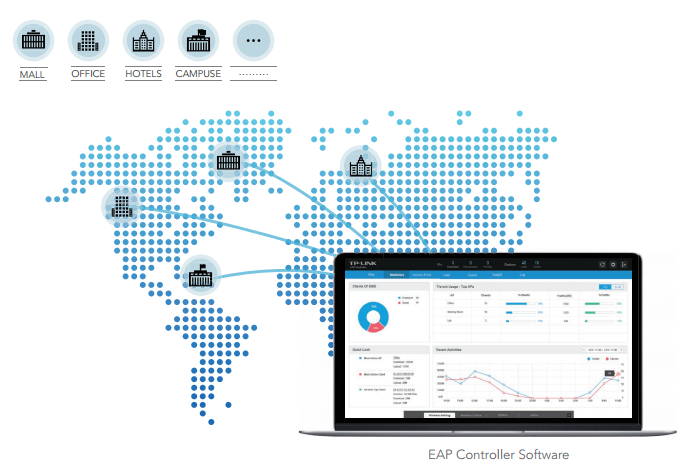 Efficient Guest Authentication
Captive portal provides one convenient method of authentication for Wi-Fi guests. A captive portal requires users to perform certain actions before network access is allowed. The required action must be verified by an external portal server or customized database by the administrator, which can be simply viewing and agreeing to an acceptable use policy, or entering a user ID and password.
Flexible Deployment
The EAP's low profile design and easy mount chassis make it easy to install the device on any wall or ceiling surface and allow it to blend in with most interior decorating styles. EAP series APs support Power over Ethernet (PoE), making deployment effortless and flexible.
Applicable to Multi-user Environment
With breakthrough 11AC speed, business-grade Wi-Fi performance, easy-to-use Centralized management software, efficient captive portal function, low profile design and PoE support feature, the new EAP 320/330 series are more capable of serving the high-density, most demanding business environments, including schools, hotels, and enterprises.

Features:
Speeds of up to 1.2Gbps over concurrent dual band 802.11ac Wi-Fi with MIMO and TurboQAM technologies
Airtime Fairness, Beamforming, and Band Steering Technologies guarantee optimal RF performance for business-level applications
Free EAP Controller Software lets administrators easily manage hundreds of EAPs
Captive portal provides a convenient method for guest authentication
Power over Ethernet (802.3at) support and simple mounting design allow for flexible deployment and convenient installation
1167Mbps wireless data rate for uninterrupted wireless connection
Airtime Fairness, Beamforming and Band Steering technology provide optimal RF performance for best Wi-Fi experience in High-Density environment
Free Controller Software for easy centralized management of hundreds of EAPs
Power over Ethernet(802.3at)Support for convenient and affordable installation
Captive portal provides one convenient method of authentication for WiFi guests
Simple mounting design makes easy to install on any wall or ceiling surface
Rate limit on per SSID to restrict the bandwidth of each client
Load balance ensures large numbers of users have smooth network experiences in high density business networks
Access Control restricts or only allows the client to access the specified network segment
Reboot Schedule enables all the APs to reboot automatically at a specified time
WPA/WPA2-enterprise, 802.1X with RADIUS secure authentication and rogue access point detection ensure the security of WLAN
Multi-SSID divides multiple wireless network for different users
Compatible with 802.11 a/b/g/n/ac products
Adopts Low Smoke Zero Halogen (LSOH) materials for UL2043 compliance
Multiple operating modes including managed AP and standalone AP satisfy different application conditions
Qos function gives video and voice streams higher priority to promote smoother performance for video and voice services
EAP Controller Software:
TP-LINK's free EAP Controller Software allows users to easily manage hundreds of TP-LINK EAPs in multiple sites with the controller in a single location. The ability to control, adjust, and visualize the entire network from any connected PC makes centralized business Wi-Fi management more efficient and cost-effective than ever before. The EAP Controller Software integrates seamlessly with TP-LINK's EAP series devices to create cost-effective business Wi-Fi solutions that offer ultimate performance.
Centralized Management Platform
Monitor and manage hundreds of EAPs in a single or multiple sites
Configure and automatically synchronize unified wireless settings to all EAPs in the network
Upload floor plans to visualize and optimize network resource deployment
Make network administration more effective and efficient with batch firmware updates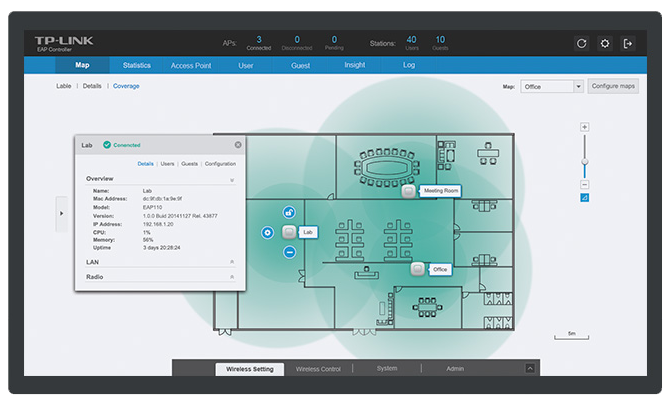 Manage Multiple Sites with the Centralized Controller in a Single Location
TP-LINK EAP controller enables the network administrator to monitor and manage hundreds of EAPs of multiple sites from any connected PC within the network. This function allows for great wireless scalability and remote network management, saving time and no extra IT staff fee, ideal for multiple distributed deployments such as hotel chain, business with distributed offices.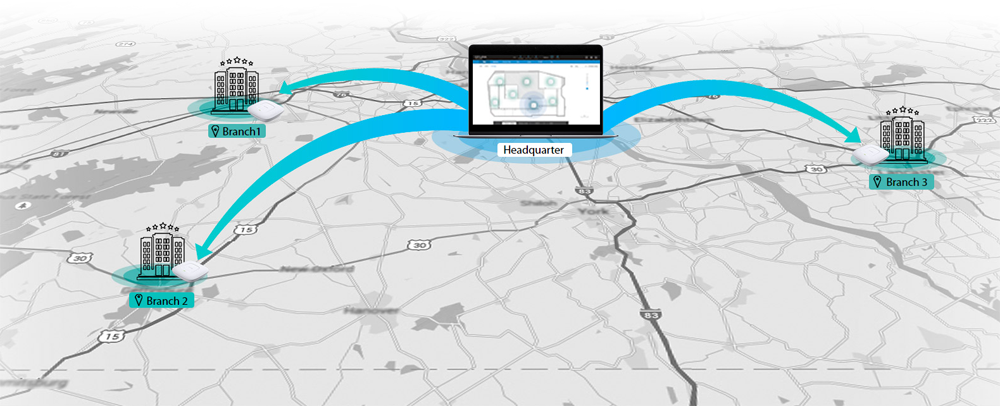 Intuitive Real-Time Monitoring
View the real-time traffic status of each EAP, including the number of clients and volume of data usage
Use built-in data visualizations to quickly analyze network traffic statistics for connected APs
Monitor data from each EAP and track user activity to better understand traffic patterns and enhance network efficiency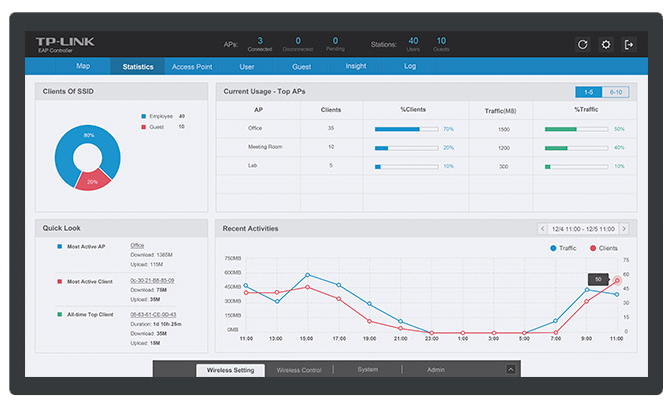 Captive Portal - Customizable Guest Authentication
The powerful Guest Authentication functionality makes it easy to customize Guest Wi-Fi settings. Administrators will be able to control guest access by designing a unique authentication page and establishing a voucher system to limit the duration of use for each client. Guest Authentication also supports the creation of "Operator" accounts, which have permission to manage the guest network without having access to other EAP administrative features.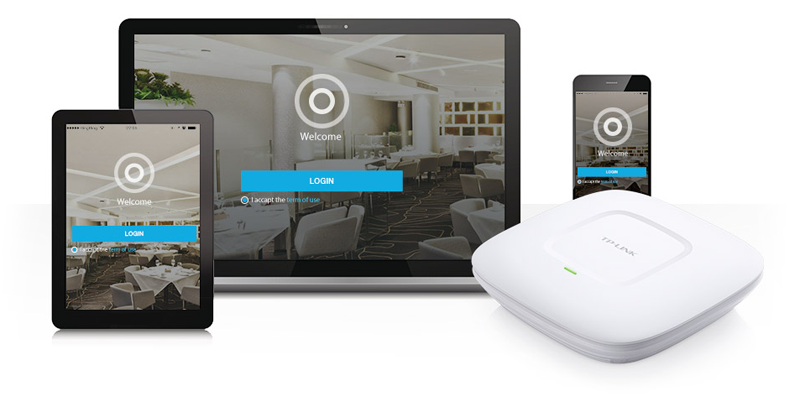 Specifications:
EAP320 Specifications
Hardware Features
Interface
Gigabit Ethernet (RJ-45) Port *1 (Support IEEE802.3at PoE)
Console Port *1
Button
Reset
Power Supply
PoE or External 12VDC / 1.5A Power Supply
Power Consumption
13 W
Dimensions (W x D x H)
8.7 x 7.6 x 1.4 in. (220.5 x 193.5 x 36.5mm)
Antenna Type
Internal Omni
2.4GHz: 2* 6dBi
5GHz: 2*7dBi
Mounting
Ceiling /Wall Mounting (Kits included)
Physical Security Lock
Kensington Lock Slot
Watch Dog
Yes
Wireless Features
Wireless Standards
IEEE 802.11ac/n/g/b/a
Frequency
2.4GHz and 5GHz
Transmit Power

CE:
<20dBm(2.4GHz)
<23dBm(5GHz)
FCC:
<27dBm

Wireless Functions

Multiple SSIDs (Up to 16 SSIDs, 8 for each band
Enable/Disable Wireless Radio
Automatic Channel Assignment
Transmit Power Control (Adjust Transmit Power on dBm)
QoS(WMM)
Airtime Fairness
Beamforming
Band Steering
Load Balance
Rate Limit
Reboot Schedule
Wireless Schedule
Wireless Statistics based on SSID/AP/Client

Wireless Security

Captive Portal Authentication
Access Control
Wireless Mac Address Filtering
Wireless Isolation Between Clients
SSID to VLAN Mapping
Rogue AP Detection
802.1X Support
64/128/152-bit WEP / WPA / WPA2-Enterprise, WPA-PSK / WPA2-PSK

Management
EAP Controller Software
Yes
Email Alerts
Yes
LED ON/OFF Control
Yes
Management MAC Access Control
Yes
SNMP
v1,v2c
System Logging Local/Remote Syslog
Local/Remote Syslog
Telnet
Yes
Web-based Management
HTTP/HTTPS
CLI (Command Line Interface)
Yes
L3 Management
Yes
Multi-site Management
Yes
Others
Certification
CE, FCC, RoHS
Package Contents

AC1200 Wireless Dual Band Gigabit Access Point EAP320
Power Adapter
Mounting Kits
Resource CD
Installation Guide

System Requirements
Microsoft Windows XP, Vista, Windows 7, Windows 8, Windows10
Environment
Operating Temperature: 0℃~40℃ (32℉~104℉)
Storage Temperature: -40℃~70℃ (-40℉~158℉)
Operating Humidity: 10%~90% non-condensing
Storage Humidity: 5%~90% non-condensing
Compare:
Auranet EAP330
Auranet EAP320
Auranet EAP220
Auranet EAP120
Auranet EAP110
Product Name
AC1900 Wireless Dual Band Gigabit Access Point
AC1200 Wireless Dual Band Gigabit Access Point
N600 Wireless Dual Band Gigabit Access Point
300Mbps Wireless N Gigabit Access Point
300Mbps Wireless N Access Point
Wireless Throughput
2.4GHz: 600Mbps
5GHz: 1300Mbps
2.4GHz: 300Mbps
5GHz: 867Mbps
2.4GHz: 300Mbps
5GHz: 300Mbps
2.4GHz: 300Mbps
2.4GHz: 300Mbps
Ethernet Port
Gigabit Port*2
Gigabit Port*1
Gigabit Port*1
Gigabit Port*1
Gigabit Port*1
Internal Antennas
2.4GHz: 3*6dBi
5GHz: 3*7dBi
2.4GHz: 2*6dBi
5GHz: 2*7dBi
2.4GHz:2*4dBi
5GHz: 2*4dBi
2.4GHz:2*4dBi
2.4GHz:2*3dBi
PoE Mode
IEEE 802.3at
IEEE 802.3at
IEEE 802.3af
IEEE 802.3af
IEEE 802.3af
Captive Portal
Airtime Fairness
-
-
-
Beamforming
-
-
-
Band Steering
-
-
Load Balance